We are happy and proud to announce that our Lazy modular sofa, designed for Calia Italia, wins the prestigious German Design Award 2020 for Excellent Product Design in the category: Furniture.
The Statement of the Jury:
"In its basic form, the armchair consists of a luxurious seat cushion and a thick backrest. It functions individually, but can also be arranged in groups and entire seating ensembles thanks to the modular system. The timeless design gives a likeable and inviting impression, which is further strengthened through the use of various colours."
The awards ceremony for the German Design Awards 2020 will be held in Frankfurt on 7 February 2020.
Discover Lazy on the German Design Award 2020 Gallery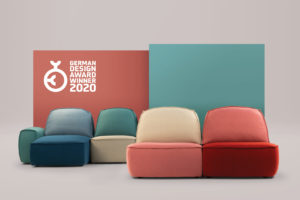 Designed by Studio Pastina for Calia Italia, Lazy is a soft-shaped, cozy sofa, thus recalling the iconographic idea of comfort: a cushion.
Starting from a single unit, that can be used as a chair, up to larger configurations, the Lazy sofa has been conceived to create multiple combinations: being extremely modular and available in a wide range of textures, the Lazy will suit any environment thus meeting different needs.
A complete collection, made of seats, backs, arms, footstools and tables: all elements having the same matrix, though different from one another, able to create a contemporary, cheerful functional system.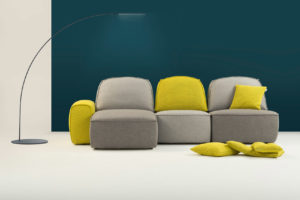 The German Design Awards is one of the most renowned design competitions worldwide and is awarded to projects that truly represent pioneering contributions to the German and international design landscape, by a highly esteemed, international jury.
The German Design Council, the expert for brand and design in Germany, bestows the German Design Award. Commissioned by the highest authority to represent new developments in the German design industry. Established on the initiative of the German Bundestag as a foundation in 1953, it supports the industry in all matters consistently aimed at generating an added brand value through design. As a result, the German Design Council is one of the world's leading competence centres for communication and brand management in the field of design. 
Discover Lazy Modular Sofa
More on Calia Italia